Tag: JavaScript
Block Trouble published!
Some time ago I stumbled on the fabulous Classic Tetris World Championship videos on YouTube and started binge watching the masters beat the heck out of good old NES Tetris. These awesome videos reinvigorated my dormant Tetris itch and started this whole thing.
I'm no stranger to Tetris and can …
... read more ...
---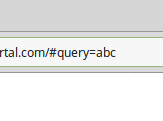 Passing URL parameters to client only
I wanted to implement a search plugin for the Just Search Portal so searching shortcuts built into browsers could be used to pull up the portal conveniently. To make this work, the portal must support retrieving queries from the URL like other search engines ...
... read more ...
---